Implementation
Implementation:
Reading teaching will focus on securing skills that will support pupils in engaging with wider life. Their confidence in reading will enable them to make a positive contribution to society and prepare them for accessing the next stage of their education. Pupils will leave their primary years able to make the best life choices, supported by their ability to engage with the modern world through different text forms.
How do we teach reading at RPA?
EYFS and Year 1 learn to read through our Little Wandle phonics scheme. For more information on this please refer to our 'Phonics' page.
From years 2-6 children are taught the skills of reading (outlined in the National Curriculum and the KS1 and KS2 test domains) through the use of VIPERS in our guided reading sessions.
The Reading Vipers can be used by both KS1 (Year 2) and KS2 with a little adaption.
The main difference being in the S.
Sequence – KS1
Summarise – KS2
In KS1, 'Explain'; is not one of the content domains, rather it asks children why they have come to a certain conclusion, to explain their preferences, thoughts and opinions about a text.
In KS2, the Explain section covers the additional content domains of 2F, 2G and 2H which are not present in KS1.
What are Vipers?
VIPERS is an anagram to aid the recall of the 6 reading domains as part of the UK's reading curriculum. They are the key areas which we feel children need to know and understand in order to improve their comprehension of texts.
VIPERS stands for: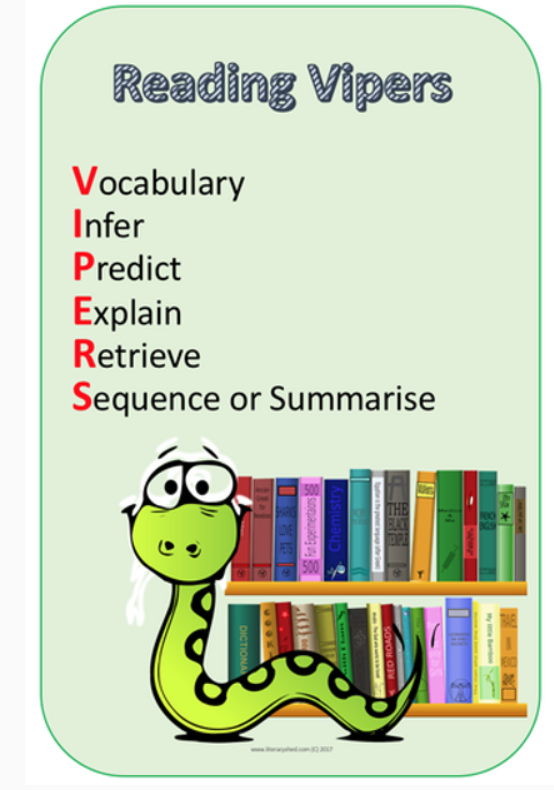 ​The 6 domains focus on the comprehension aspect of reading and not the mechanics: decoding, fluency, prosody etc. As such, VIPERS is not a reading scheme but rather a method of ensuring that teachers ask, and students are familiar with, a range of questions. They allow the teacher to track the type of questions asked and the children's responses to these which allows for targeted questioning afterwards.
RPA's Reading Spines
Please see below the progression from year 2 to 6 of our texts covered within guided reading sessions.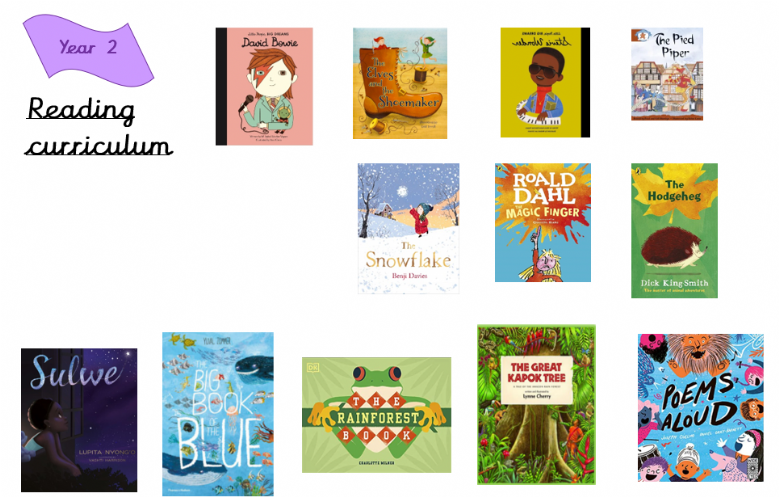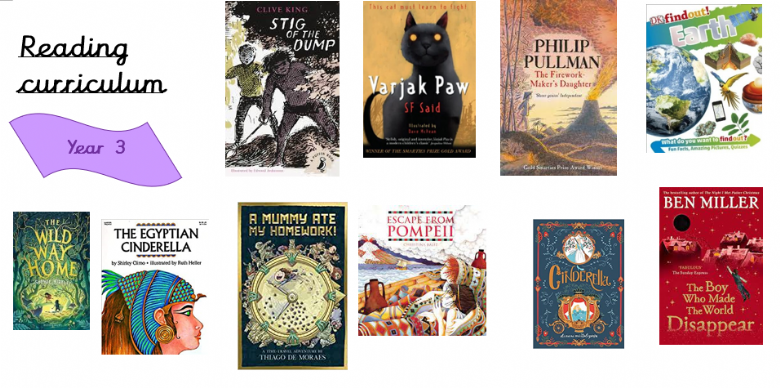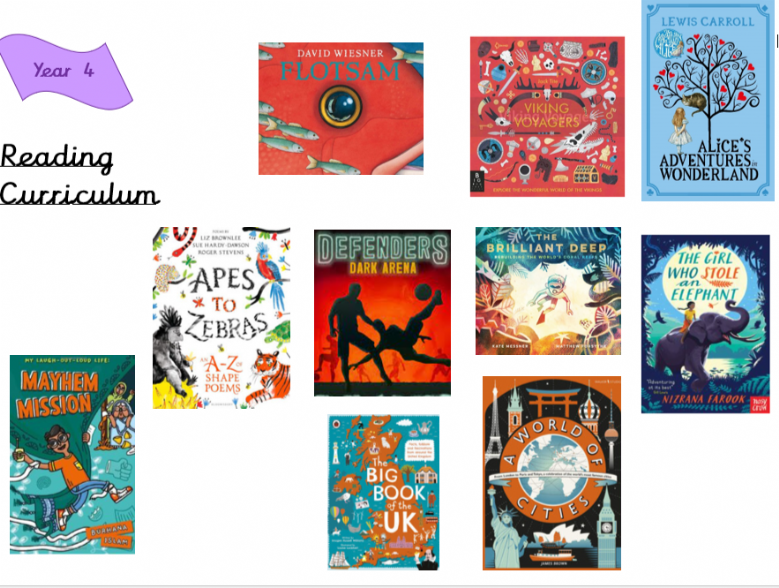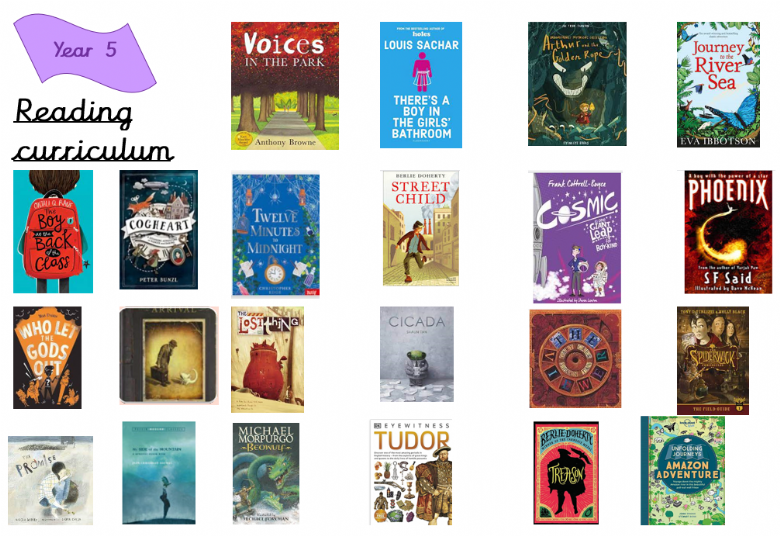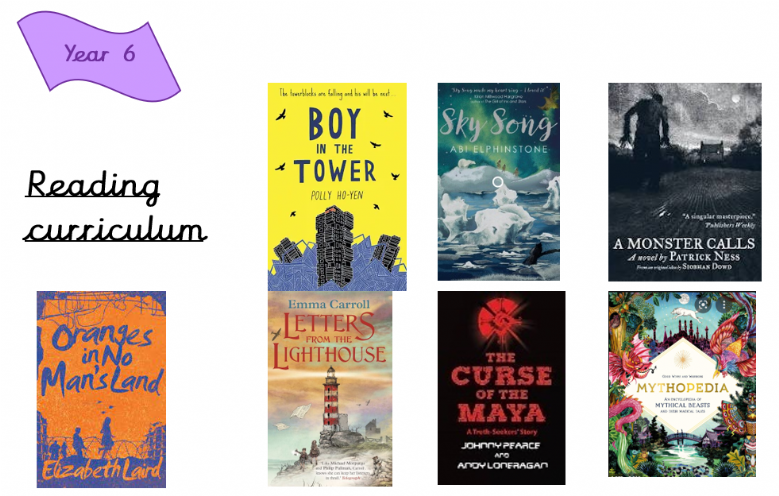 The Classroom Environment
Each classroom has a dedicated reading area which includes a variety of class books (fiction and non-fiction) which the children can choose and read for pleasure. In these collections there is a book for everyone! A selection of decodable books are also available for classes to use during independent reading.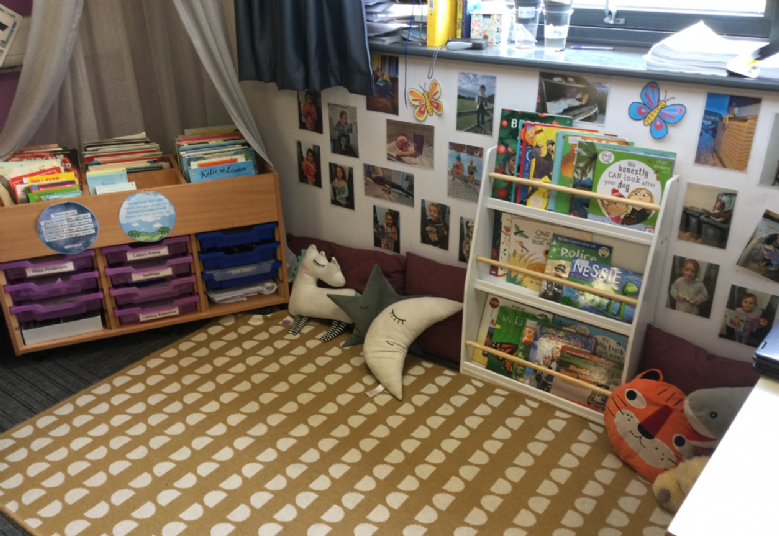 Have a look at our guided reading display boards that support learning.