Implementation
At Rushden Primary Academy we use 'Developing Experts' to shape our science curriculum. Developing Experts is delivered through a sequenced curriculum designed to enable the learner to experience a coherent curriculum delivered through a logical progression. Attention has been paid to the order in which knowledge has been delivered, built on and revisited. The embedded unit quizzes have been designed to optimise learning outcomes for pupils to enable concepts to have a greater chance of becoming part of the learner's long-term memory.
We teach progressive 'Rocket words' linked to each unit to help children to learn new vocabulary. We use knowledge organisers in class to support children in learning and retaining new vocabulary and encourage them to use this in their work, in addition to this we display the vocabulary on our Science display boards.
Here is an example of a Year 2 knowledge organiser.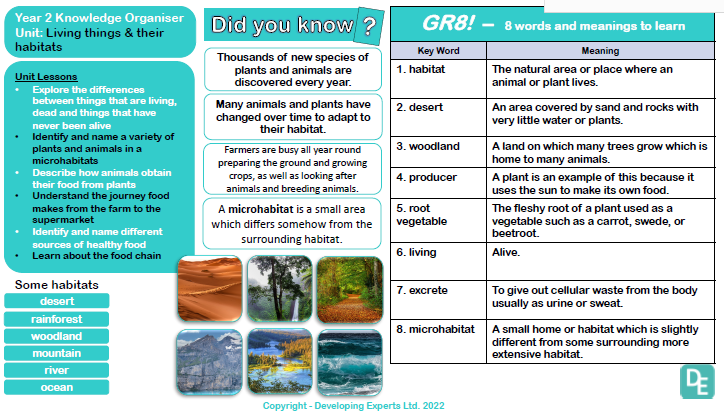 We reactivate children's prior knowledge by starting each lesson with a question linked to a previous unit of science. This further supports the transfer of knowledge from the short-term memory to the long-term memory.
Our curriculum is fully inclusive and all children can succeed in science. Where necessary, small tweaks are made to the delivery of lessons to enable all learners to make progress. We support ranging needs, celebrate cultural diversity and make learning relevant through linking content to the context of our school and children. Each unit has comes with an introduction to a variation of careers that are linked to science. This enables children to see the value in science within everyday life and giving them aspirations they may not have realised were there.