Parents of Rushden Primary Academy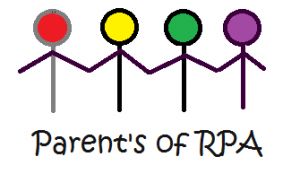 Our objectives are to raise funds in support of the education of the children at Rushden Primary Academy.
We do this by arranging events for the community of RPA.
Parents of RPA is a collaboration between parents and staff whose aim is to hold events that bring the community together and raise money to purchase items that Government funding doesn't cover. The success of Parents of RPA depends entirely on the support of all parents, staff and the community.
Core Committee Members
Chair – Mrs Danielle Duguid
Treasurer – Miss Tracey Yates
Secretary – Mrs Johanna Wootton
Highlights 2016-2017
Valentine Heart completed by the children using coins. Money was used to purchase blankets for Unicef
Cake sales – left over cakes were donated to the food bank in Rushden
Lolly sales
Father's Day activity
Summer Fete
Film night
We purchased coins for the children to celebrate the Queen's 90th birthday
Wear bright colours mufti day plus reflector and visit from PCSO
Macmillan Afternoon tea – surplus cakes to food bank
Disco
Christmas art activity plus cake raffle and Christmas jumper day – proceeds to The Children's Society
Money from the above events (if not for charity) has been used to pay for markings on the playground as requested by Ms Davies. It has been agreed with the school that they can have 70% of funds that we raise. The other 30% is to be kept for insurance and other expenditures. Once the playground markings are completed a decision will be made with the school as to where funds can be directed.
Up and Coming Events 2017
Reception Film Night – Thursday 18 May
Cake Sale – Thursday 25 May
Father's Day Shop – Friday 16 June
Sports Day Refreshments – Thursday 29 June
Summer fete – Friday 14 July
End of Year Disco – Thursday 20 July
We are always looking for new members to join us and help run events for the school. If you would like to contact us with any event suggestions or to offer help at any of our events, then please email our Chair Danielle Duguid at parentsofrpa@yahoo.com.